Become A Featured Artists
Calling artists of all ages! Let your creativity flow. How will you portray gasoline and our relationship to it? How will you reach minds and hearts? Submit your artwork to Coltura (link to Contact) in any form or medium – from a painting, sculpture or photo to a video, song or live performance. We'll feature the best pieces on this website and on social media. If your submission meets the qualifications for one of our future art contests, it'll be entered automatically.
Artists define our perceptions and beliefs. When artists change the way we perceive, society changes.
We are wrecking the planet with each gallon of gasoline we use, yet using gasoline is still perceived as socially and morally acceptable.
Few artists have addressed our use of gasoline. The subject is wide open. There are no definitive works or visual language concerning gasoline. No conventions. Everything is up for grabs.
Coltura invites artists to create art which reveals the place that gasoline has in our society. How we make, pump, use, smell, breathe, feel about, and pay for gasoline.
Fresh and powerful art relating to gasoline can shatter the complacency around our use of it. It can cause people to think about their own gasoline use, and about how they might stop it.
Coltura believes that art can change the world, and we seek to partner with and support artists in this endeavor.
In this space, we highlight artists whose work addresses gasoline.
Art and Photography: Courtney Mattison
About Courtney Mattison
Courtney Mattison is an internationally recognized artist and ocean advocate working to inspire policy makers and the public to conserve our changing seas. She hand-sculpts intricately detailed ceramic sculptural works inspired by the fragile beauty of ocean ecosystems—primarily coral reefs—and the human-caused threats they face. Courtney's delicate and often large-scale ceramic sculptural works have been exhibited at prominent science and art venues including the Washington D.C. headquarters of the National Oceanic and Atmospheric Administration (NOAA) and the American Association for the Advancement of Science (AAAS), the Tang Museum, the Nova Southeastern University Oceanographic Center and the Virginia Museum of Contemporary Art in an effort to promote awareness for the protection of our blue planet.
Born and raised in San Francisco, Courtney received an interdisciplinary Bachelor of Arts degree in marine ecology and ceramic sculpture from Skidmore College in 2008 and a Master of Arts degree in environmental studies from Brown University with coursework at the Rhode Island School of Design in 2011. Her work has been featured in Smithsonian Magazine, Science Magazine, Colossal and other prominent international science/art/culture publications. In 2015 Origin Magazine named her one of 100 top "Ocean Heroes" and the International SeaKeepers Society named her Artist of the Year. She is currently relocating her studio from Denver to Los Angeles.
To see more of her art and learn more about her work, visit Courtney's website http://courtneymattison.com.
Artist Statement
I love coral reefs for being exotic, diverse and often venomous. Perhaps it's because I'm small and I respect small creatures that build big beautiful things, but I feel like I relate to corals—arguably one of the least relatable animals—on a very deep level. Sadly, reefs are so threatened by our greenhouse gas emissions, pollution and overfishing that scientists agree that they may cease to function by the end of this century. As an ocean "artivist" (artist-activist) with a background in marine ecology, I believe art impacts our emotions and can move us to value the blue planet we live on in ways that scientific data often cannot. We protect what we care about and we care about what we know and understand. Art can bring the beauty and peril of reefs above the surface and into view and can inspire us to protect the ocean.
I hand-build enormous and intricate ceramic sculptural installations inspired by the fragile beauty of reefs and the human-caused threats they face. I enjoy feeling like a coral, patiently and methodically constructing large, delicate, stony structures that can change an ecosystem. I build hollow forms by pinching together coils of clay and use simple tools like chopsticks to texture each piece by hand - often poking thousands of holes to mimic the repetitive growth of coral colonies. Individual coral polyps precipitate calcium carbonate from seawater to form stony skeletons that grow atop one another to compose the vast, complex structures we know as reefs. It therefore feels essential that the medium of my work be ceramic, as calcium carbonate also happens to be a common glaze ingredient. Not only does the chemical structure of my work parallel that of a natural reef, but brittle porcelain anemone tentacles break easily if improperly handled, similar to the delicate bodies of living reef organisms. This shared sense of fragility is fundamental to the message of my work.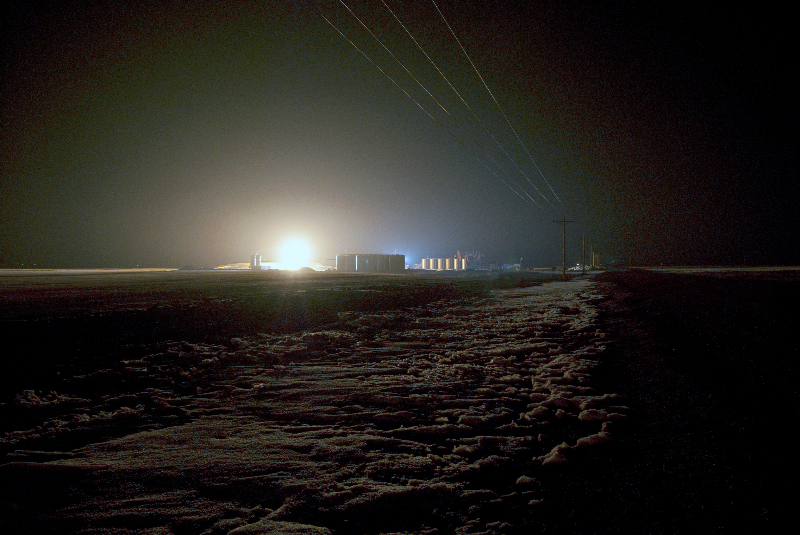 Seattle-based photographer John Lewis captures raw, thought-provoking images that encourage us to reexamine our notions of manifest destiny and everyday commodities. Growing up near the Bakken oil fields of northwest North Dakota, Lewis is no stranger to fossil fuels and their impact on local ecosystems and communities. Having taught photography for a number of years in Spokane and Seattle, Washington, Lewis now focuses on freelance work. Featured above is his series of 9 photographs taken specifically for Coltura to help in our efforts to change our societies relationship with gasoline.
All photos are Copyrighted John Lewis Photography.